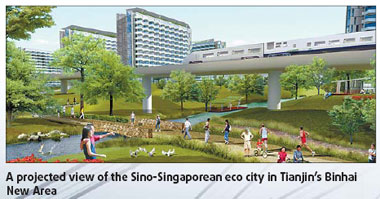 In the 9/25/2008 issue of "China Daily," there is an article titled "
China Singapore Team Up on Green City Project
."
China, in cooperation with Singapore, is looking to build a new, green city on a piece of land that would otherwise be unsuitable for habitation.
From the article: "The eco city is located in Tianjin's Binhai New Area. It will cover a total of 30 sq km - 20 sq km in Hangu district and 10 sq km in Tanggu district. It is 15 km from the central part of the Binhai New Area, 45 km from downtown Tianjin, and 150 km from Beijing."
The planners are estimating a population of approximately 350,000 when complete in 10-15 years. Additionally, it will have five commercial centers.
From a sustainability point of view, "Clean energy and renewable energy resources - such as wind power, solar energy, underground heat pump and air source heat pump - will reduce carbon emissions in the city. All the buildings in the eco city will have to conform to green architectural design standards." Green roofs are included in the design.
This is the latest in a green building boom in China.
Shanghai
working on a green roof program,
Dongtan
is the green city in southern China, and
Songjiang
, the new green resort being built. In each of these cases, green roofs play a key role in reducing air pollution, the urban heat island effect, storm water runoff, as well as improved energy efficiency.